Our Story
Domenico's is one of the first restaurants to serve pizza in California and has a long and amazing history.
Domenico's is one of the first restaurants to serve pizza in California. In 1954, Domenico and Beverly Spano opened Domenico's in the Belmont Shore area of Long Beach.
With a simple menu consisting primarily of made-from-scratch pizzas and the now famous house salad, Domenico and Beverly introduced their Italian fare to the Long Beach locals.
Domenico with Wilson High Students Circa 1958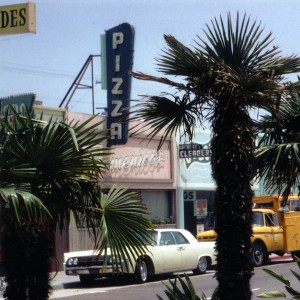 Domenico's in the early sixties before the dining room was expanded.
Before long the ground sausage, ground pepperoni pizzas, and the creamy garlic salad dressing became Belmont Shore traditions. Dom and Beverly soon opened Domenico's locations in North Long Beach, Lakewood, Hawaiian Gardens, and Santa Ana. In the mid-sixties, the original Domenico's was purchased by the Kenyon Family. 
 Proprietors Mike Rhodes and Jim Walker continue the traditions that have become synonymous with Domenico's. The original recipes are still being followed, and its business has grown to new heights. The menu expanded to include many delicious pasta dishes including Sausage Tomato Cream, Chicken Basil Cream, Angel Hair Chicken Fresco, and much more.
Mike Rhodes and daughter Erin at the KTLA studios when Domenico's was featured on "Burrous' Bites" segment in 2016.
Domenico's new location on Lake Mission Viejo.
Beautifully located overlooking Lake Mission Viejo, Domenicos' on the Lake opens with an upscale take on the original location in Belmont Shore.
The new menu features many original Domenico's favorites and some new items such as Braised Short Rib, an Italian Ribeye with Gremolata, Wild Shrimp Scampi and many others. It also offers a full bar with fresh cocktails, new wine offerings and more.
The Original Domenico's Menu